Bandonion History & Collection 4
More instruments from my collection, showing the range developement as discribed the page before.
---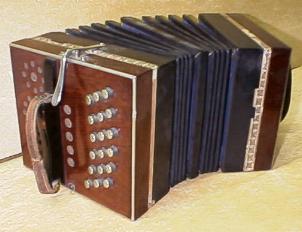 This bandonion has 35 keys (70 tones)3 rows, single reed.
It is one of the earlier models but not quiet so old.
I would date this instrument from about 1870/75.
The bellows are not original.
Dimensions: height 18.5 cm. width 17 cm.
coll.H.Geuns
---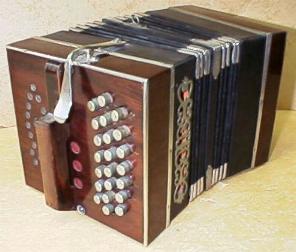 For comparison a 76 tones, German Konzertina, which looks olmost the same.
Dimensions: 17 cm. square
An easy way to find out the difference between a bandonion and concertina is the key number 14 at the right instrument side.
Hint:German Konzertina key number 14 (right side) always produces a uni-sonoric tone (normal d 2)
Bandonion key number 14 (right side) produces always a bi- sonoric tone (normal g2open/d#2close).
coll.H.Geuns
---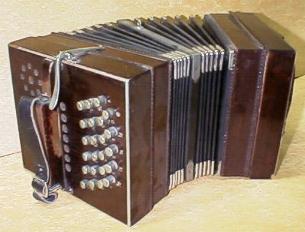 coll.H.Geuns
bandonion 88 tones  4 rows single reed
Dimensions: h. 19 cm. w. 18 cm.
---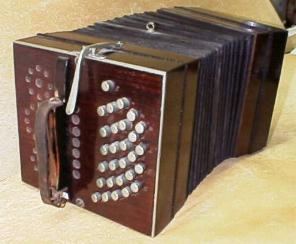 Bandonion 110 tones ,single reed, five rows.
Dimensions : h. 19,5 cm. w. 19 cm.
coll.H.Geuns