Bandonion History & Collection 2
(picture) 56 tone ,28 keys Konzertina "Uhligs"1840 lay-out dating from probably the 1860`s )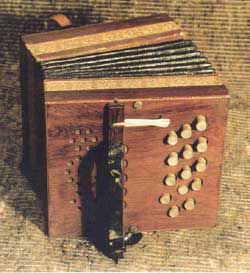 coll.Mr.Stephen Chambers
About the mid 1840`s  two more modified Konzertina lay-outs are worked out by Mr.Carl Zimmermann (produktion of Carlsfelder Konzertinas since 1849 at Carlsfeld/Germany) and Mr. Heinrich Band from Krefeld/Germany.
They must have heard about Uhlig`s instrument.
Mr.C Zimmermann and Mr. H Band were musicians/teachers, and they seemed to have disliked the small range of Uhlig`s lay-out.
Separate from each other they made their modifications.
Zimmermann`s lay-out became known as the " Carlsfelder Konzertina", and Band named his instrument after himself " Bandonion".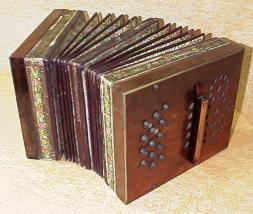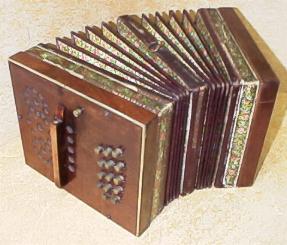 coll.H.Geuns
Picture : (from my collection) 56 tone bandonion/concertina  14 "German silver" keys at each side.
very early instrument,single voice.
The keys are numbered at the left side 1 – 13, right side 1- 13 +0