The ancestors of bandonion History
Carl Friedrich Uhlig (instrument maker from Chemnitz  <1798-1874>) got acquainted with  the first accordion invented (1829) by Cyrill Demian, on a trip to Vienna (Austria).
He was not pleased with the "programmed" chords at the left side of Demian`s accordion and back home, he started making a modified instrument increasing the range, and making some improvements.
At the end of 1834 he finished the first instrument, square shaped with five keys on the left- and five keys on the right side, every single key producing two different tones when changing the bellows direction (bi-sonoric), producing  20 tones.
It may have looked like the instrument in the picture below.
The shown pictures were taken from collection items of Mr. Stephen Chambers from Dublin (Ireland).
(picture) 20 tone Konzertina (from about 1854)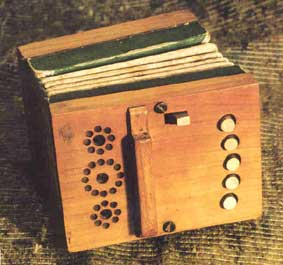 coll.Mr.Stephen Chambers
---
About the same model with 40 tones (20 keys)rectangular keys signed inside by pencill as: < Pirner>(Carl.Friedrich)from Chemnitz(G)
(collection Mr.Stephen Chambers)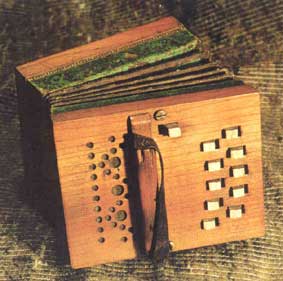 coll.Mr.Stephen Chambers
Uhlig named his instruments "Konzertina" and in a short period of time (1840)his first 56 tone square Konzertinas were sold.
The reed combination originally was single voiced and about 1868 the first instruments with double reed combination  8+4 foot were produced.
---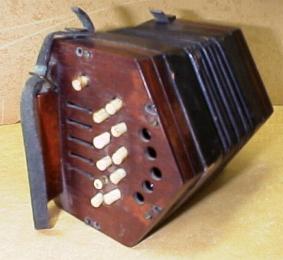 coll. H.Geuns
Very old concertina made in Germany
20 keys , 40 tones (reed pan type, as  in English concertina)bone keys.
(If someone can tell me more about this instrument, let me know).